February ami-along part 2 of 3...
Geometrics
part 1!


As I mentioned in the February ami-along post, I came across so many free patterns that could slip into the "Geometrics" part of this month's ami-along theme, that I've had to split them up into two posts, and this is part 1 of Geometrics! :o)

Amigurumi are typically made with simple 3D shapes, put together, so you can imagine that LOTS of them fit in with this theme.

WARNING: So many free patterns it may boggle your mind!! heh heh
Lots of both knit and crochet versions. (I'm sorry I don't have any more time to spend to separate them.)
Berroco Free Pattern | Celestine Crochet
Magnetic Katamari Pattern Amys Babies
Lots of wonderful shapes!
Berroco
Free Pattern | Celestine
berroco.com/exclusives/celestine_sox
celestine variations
Ravelry: Dodecahedron Thingymabob pattern by Amy Thornton
Ravelry: Crocheted Dodecahedron pattern by Marleen Hartog
Amigurumi Balloons free crochet pattern by Suncatcher Craft Eyes
Free Crochet Pattern 90505AD Bella Blocks : Lion Brand Yarn Company
crochet version
Free Caterpillar - Kimberly Chapman
crochet versions
kimberlychapman.com/crafts/knit-patterns-caterpillar knit version
roman sock: Granny Square Tortoise Love
Hooked on Needles: Crocheted Pin Cushion Pattern - English version
Yellow, Pink and Sparkly: Patchwork Ball
Knitty: Winter 2006 - editor
WolfDreamer: Mario Brothers Mushrooms
Rebecca Danger
DangerCraftsMonsterChunksKnittingPattern.pdf (application/pdf Object)
dangercraftsbunnynuggetknittingpattern.pdf (application/pdf Object)
I Dream of Knitting: Doughnut
easymakesmehappy.blogspot.com/2010/04/rainbow-necklace
Safety Cone to the Rescue! | Create!
Herbst Handmade: Crochet Pattern - LOOP Baby Toy
- Roly Poly Cats Pattern
peachcake knits: Lemonlime
Free Crochet Pattern 80308AD Amigurumi Two Peas in a Pod : Lion Brand Yarn Company
Mary Jane, Midge & Mink: Olive Tutorial
The Gabu Crochet Amigurumi Creature Free Pattern
This Cosy Life Home
radish & leaves
Free Knitting Pattern 80765AD Wise Owl Toy : Lion Brand Yarn Company
Free Crochet Pattern 80894AD Pablo Panda : Lion Brand Yarn Company
Do the Jellyfish Jam - BitterSweet
Free Crochet Pattern 90155AD Caterpillar Baby Toy : Lion Brand Yarn Company
WolfDreamer: Luma Plushie
Knitted eyeball juggling balls - Gigglinggoblins Weblog
Day by Day...I try to stay sane: Knit Cactus
waysofthewhorl.wordpress.com/2010/12/23/the-knitted-christmas-star-pattern
Shh, I m counting!: Slime amigurumi
Caffeine, kids, and knitting...in that order.: Simple Crochet Ball
Mochimochi Land - Free Pattern: Captain Capacitor
Free Crochet Pattern 80445AD Felted Doris the Duckling : Lion Brand Yarn Company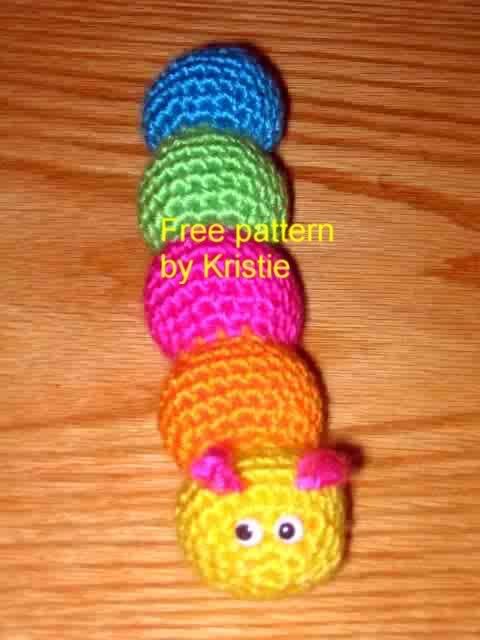 Caterpiller Pattern - Crochetville
The Roxycraft Blog: Free Pattern :: Amigurumi Easter Bunny - Bunny Boo
Bernat: Pattern Detail - Handicrafter Cotton - Monsters (crochet)
AmigurumiCat: Little fat cat Ballball
Free Crochet Pattern 80843AD Eggplant : Lion Brand Yarn Company
Rad Radish - BitterSweet
Free Crochet Pattern 70578 Amigurumi Dog : Lion Brand Yarn Company
Baby Eggplant - DIY Craft Project Instructions
Amigurumi - Not So Scary Monster - DIY Craft Project Instructions
Bob the Blood Drop
Free Crochet Pattern 90227AD Fabio Frog : Lion Brand Yarn Company


WolfDreamer: Oddish Plushie
Ravelry: My own planet Amigurumi pattern by Stacey Trock
Amigurumi Jellyfish | PlumCakePudding on Xanga
Ravelry: Little Empanada pattern by Deena White
JG: Yarnball Pattern
Two Peas in a Pod - BitterSweet
Tofu For You! - BitterSweet
peachcake knits: my favorite fruit, duh (NOW with pictures)
Evil Minions - gnat on the windshield
Yarn Songs - The Patterns: S(p)ock
Nuland News: First pattern (free)
Crochet Spot - Free Crochet Pattern: Egg - Crochet Patterns, Tutorials and News
star
The Blue Crab Stitches At Midnight: Little Bird s Holiday Amigurumi
Free Pattern -- Crochet Lemon Meringue Pie Slice - CROCHET
Free Crochet Pattern 80761AD Lollipop : Lion Brand Yarn Company
slime
Birds of a feather: Christmas decorations DIY: christmas ball
Bronx Girl Knits!
Wubzy
Ana Paula s Amigurumi Patterns & Random Cuteness: Pablito the Penguin
Baby Grab Ball
Geometrics Part 2 will be coming soon! :o)